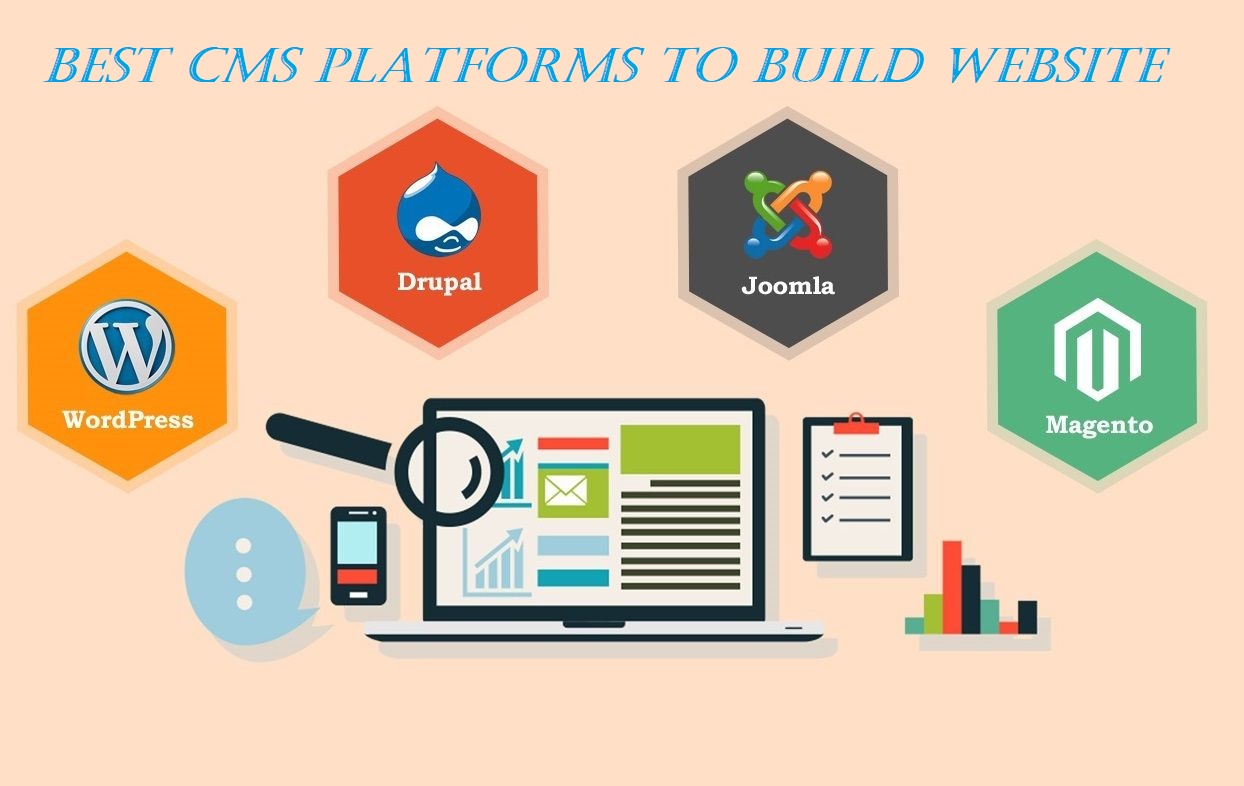 6 Best CMS Platforms To Build Website
CMS Platforms are becoming wildly popular among web developers and even amateurs looking to create a website. These platforms allow the creation for a website without actually having to understand the code for the majority part. The Content Management Systems (CMS) facilitates a website design without having the formal knowledge of HTML, CSS or Java Script. The amount of code, too, for these languages would be extremely high. The drag and drop interface allows easy editing and creating content. The number of templates on offer can help you create attractive designs. The system of handling data, too, is simple, allowing easy export of data whenever needed.
WordPress
One of the most popular CMS out there, WordPress is known to power about 37% of all the websites. A staggering feat for WordPress as it started out as just a blogging platform. The transition into a full suite CMS is something that has inspired a lot of people and businesses to build their websites. You can build   almost any kind of website with WordPress, be it an e-commerce store, a forum of some sort or any other type. The number of plugins and templates available are phenomenal, giving you endless scope for creativity. The overall user experience is very high quality, making it one of the best CMS platforms to build a website.
Joomla
Another popular CMS platform is Joomla that provides you with a number of extensions and templates. The customization options here are plentiful as well, allowing you to create an impressive design for your web pages. The platform is free for you to use, but you will need a hosting and a domain name. If you are looking to build a slightly complex or a visually stunning website, Joomla is the right choice for you. Being packed with features, the platform is perfect to use by professional designers and developers. Joomla might not be that easy to be used by beginners, but once familiar with the platform, it can help you create successful web pages.
Wix
Wix is a very beginner friendly CMS that allows you to create simple web pages. Though it is known to have some limitations, Wix is great to use for a smaller scale of operations. For making creatives and dynamic web pages or just information boards, it is the perfect CMS for you. The drag and drop interface of Wix is one of the highlights of this platform. Any part of the page can be edited or relocated on WIx. Your pages are very responsive on both computers as well as mobile devices, which is a pro for this platform. Another benefit is that you can add numerous apps to your website from the WIx App Market in a similar way to WordPress's plugins.
Woo Commerce
If you are looking to build an online shop, then Woo Commerce is the perfect choice for you. Renowned globally for its e-commerce capabilities, this is the ideal choice to host an online shop. The flexibility and ease of use is the first thing you will notice. Now for the big reveal, Woo Commerce is not a CMS platform itself, but rather it is a plugin on WordPress. So to get started using Woo, you'll need a Woo Commerce hosting and domain name. The choice of themes can help you create a unique website that will draw the customer traffic. Using Woo, you can sell digital as well as physical products through your shop. Woo also facilitates easy handling of inventory, making your job of handling your online shop much easier.
Drupal
Drupal is another one of the open-source CMS platforms. It is known for being behind some of the biggest names out there. The Economist's site is built using this platform. Why you should choose Drupal is because it allows you to build a website with a lot of customization. It will also help you if you have a lot of data that needs to be handled. What's more to make your life easier is that you can host your Drupal site on Site Ground. What this means in essence is that they offer you free installation and also facilitate the transfer of existing Drupal sites. Handling content is very easy on Drupal, with a flexible overall process to build your site.
Magento
From the house of Adobe, Magento is their open-source CMS platforms for e-commerce. As you'd think from Adobe, it is a little bit on the expensive side if you choose to buy its full version. But what you'd get in return can eliminate all your problems hosting your website. Again, some of the biggest names in the industry have websites made using Magento. Some of them are Ford, Nike and CocaCola's websites. The customization options on Magento are worth mentioning, allowing you to handle a large inventory for products as well as traffic flow. In short, your website will never slow down even as your business continues to grow at a really fast pace. Several major payment gateways can also be integrated with your Magento website.