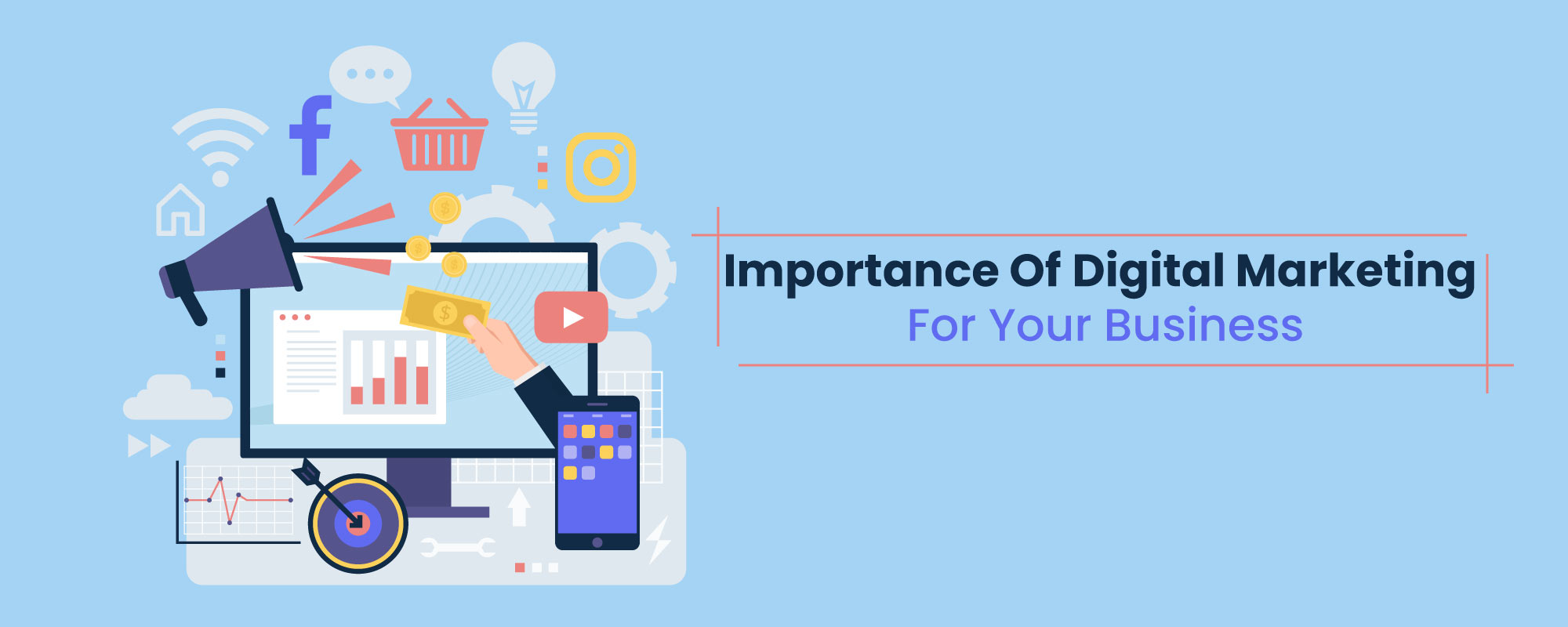 Why Digital Marketing is important nowadays?
Competition nowadays has increased on a larger scale than before. Companies trying to step up in the market are all trying different marketing strategies. One of them is Digital Marketing, which most of the companies are enhancing and improving on their digital marketing skills. In today's era, the internet, social media, and internet usage have spiked. All credits to COVID-19, people who were not even considering going online, now have created an online company and started to revolutionize according to the internet era. Now let us have a good look at Importance of Digital Marketing nowadays.
Three reasons why online marketing is taking over the world of marketing:
1.  Budget-Friendly
One of the most important reasons why online marketing is taking over the world of marketing is that online marketing is cost-efficient. Online marketing doesn't require much of an investment but it provides a better return on investment than normal marketing. Small businesses and startups enjoy this feature of digital marketing.
2.  High Reach
The reach of internet marketing is worldwide. As a result, you may accept orders for your product or service from all over the world, rather than just one region. Even if you go worldwide, you may still target a certain group of people. Which leads to you winning at Digital Marketing.
3.  Brand Image
The image of a well-established organization is crucial. A company's brand image is heavily based on using correct advertising techniques. Digital Marketing helps you build your brand image online without having to spend more to get people to know about your company.
Importance of Digital Marketing for Branding
Branding has always been the most important factor for every business. Getting consideration from the audience is what most companies seek nowadays. Earlier, branding was just considered by product's packing, visuals, and labels but in today's era branding is also seen as the reach a brand gains online. Hence, Digital Marketing has become an important factor for companies to create a brand image for their companies. As digital marketing pulls first place in marketing activities, it has a significant impact on branding. Companies may express their branding efforts through digital marketing. It is their main platform for promoting their brand. Digital marketing has become a crucial tool for communication, whether it's through viral content or a tailored Instagram feed.
Importance of Digital Marketing for Startups and Small Businesses
Talking about Digital Marketing, we now know that it requires less cost to be spent on. Thus, this is a great opportunity for small businesses and startups to rise in the market. Small businesses and startups nowadays go for creating an outshining and effective online presence. In this way, the audience worldwide will know that they exist. Creating trending content, engaging posts for social media lets small businesses and startups form an image in the heads of customers. Internet usage has increased on a large scale and to create a firm grip in the competition, you need to have an upright strategy. Digital Marketing is the easier and efficient way to turn things the right way.
Read more about- Top Digital Marketing Trends in 2022